The wait of history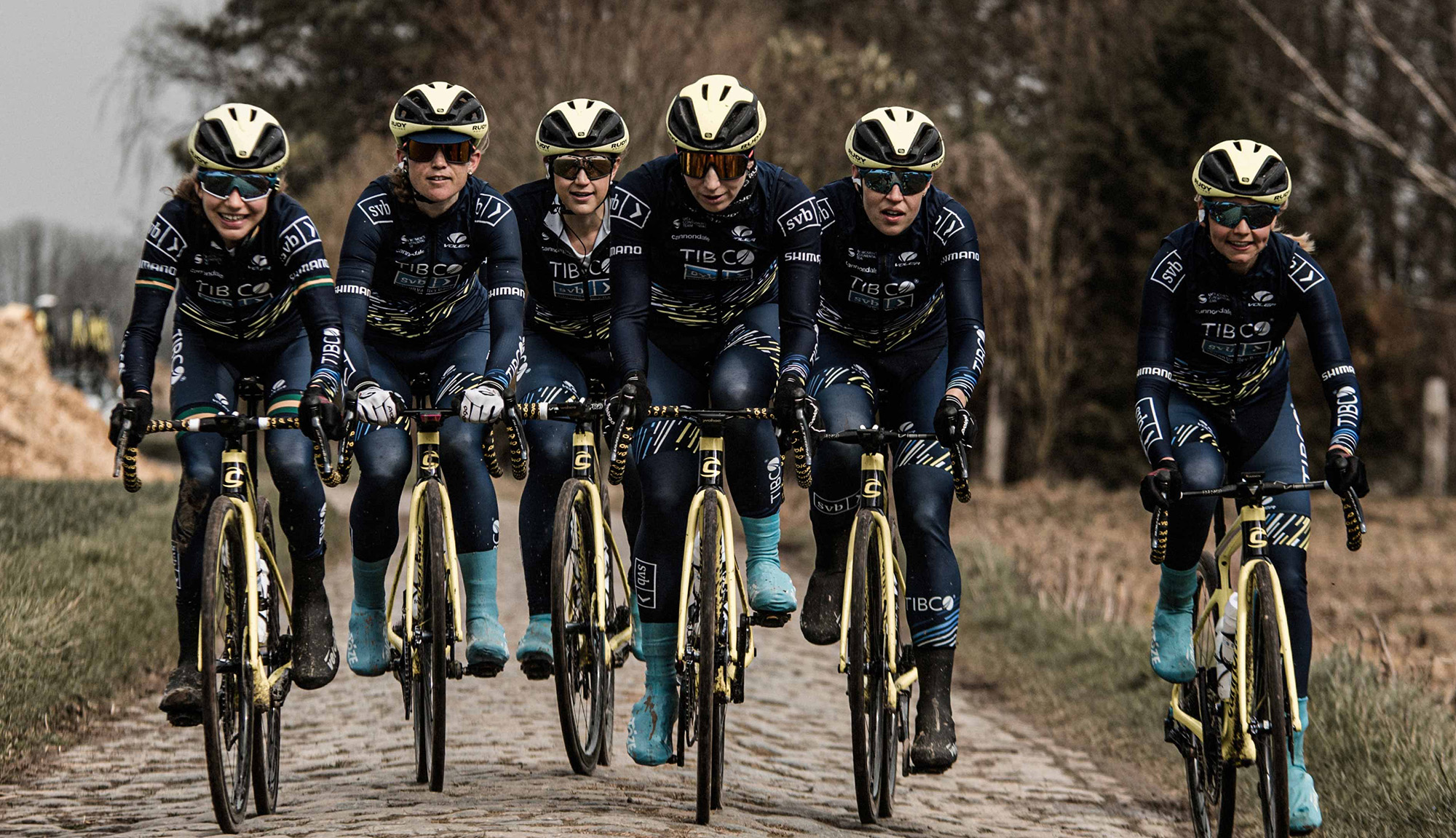 How the women of TIBCO-Silicon Valley Bank are writing a new history on the cobbles of Roubaix and racing for equality.
On an overcast morning in Northern France, Team TIBCO–Silicon Valley Bank rider Kristen Faulkner put on her blue shoes and clipped in alongside her teammates to do recon of the famous Paris-Roubaix course. It was the second time the Harvard graduate had gone on this particular recon mission, the first was last October before what was set to be the inaugural women's race — postponed from its original April date and ultimately canceled due to COVID-19.
Kristen — who used to require a whole different kind of endurance for 12- to 15-hour days working in finance in Midtown Manhattan — felt more at ease this time around. Now, she's more familiar with the uneven cobblestones, surrounded by dirt that turns into mud, and the winding lanes covered in loose gravel that traverse Northern France. A challenge that daunts even the most experienced athletes, let alone a first-year full-time pro.
When we caught up with her and the rest of Team TIBCO-Silicon Valley Bank in late March, she was eating gazpacho, fresh out of the shower to rid the caked-on mud from her body, and a little emotional. Understandably so, as Kristen and the rest of her teammates had been in a holding pattern for weeks, waiting the ultimate postponement of the first-ever women's edition Paris-Roubaix — for the second time — to October 2, 2021. The 2020 installment was one of more than 60 races to date that the International Cycling Union (UCI), due to restrictions imposed by authorities.
"We've been in limbo," Kristen told Cannondale. "That impacts how we train, which races we prioritize, and more specifically, how we hype up what could've been happening very soon. Paris-Roubaix is a really big moment for women's cycling." 
"We've been racing. We're still racing. But now specifically more and more fans are starting to realize that women are racing bikes, it is just as exciting as watching the men's race."
– Lauren Stephens
One would think that this responsibility — that of spreading the word that yes, women are racing bikes and yes, they are finally lining up at some of the most well-known races in cycling — wouldn't necessarily fall on the riders themselves. Alas, with COVID precautions limiting spectators from the sidelines and masks in tow off-the-bike and on the podium, securing a virtual audience is of the utmost importance — as teams generate their own publicity and hype, TIBCO-Silicon Valley Bank included.
Dutch rider Eva Buurman, one of the strongest up-and-coming climbers who joined the team in 2020 after spending two seasons with Boels-Dolmans, is certainly hyped. She's also prepared for the challenges that come with riding next-level courses. "Paris-Roubaix is a difficult ride, but we're ready for difficult things," she says, adding that it feels great to be back with the team on the road. "I spend more time with them lately than I do my family. It's a fun bond and a great chance to get to know each other." 
Linda Jackson, former Canadian pro and founder of Team TIBCO-Silicon Valley Bank says that watching the California-based team prepare for whatever may happen this season has been really rewarding. Linda, like Faulkner, left her full-time job as an investment banker back in 1993 to chase after her sporting dreams, ultimately winning the bronze medal at the 1996 World Road Racing Championships and going on to race at the 1996 Atlanta Summer Games. 
"Cycling is finally giving women a platform to say, 'we can do this too,'" adds Linda. "But I think it's going to take some time before people realize how huge this is. The media exposure attached to these races is something we've been fighting for decades. When people realize that they can watch women's cycling more often — including the Paris-Roubaix — on TV, that will be special." 
Progress in the Making for Women
While Paris-Roubaix may be nicknamed "Hell of the North," due to its extreme conditions, female cyclists have been going through it for some time now. For instance: In this day and age, you can turn to Google to learn about almost anything, but even the smartest sleuth would have a difficult time diving into the history of women's pro cycling. That's because — until the late 20th century — it was out of the spotlight and arguably, hardly recognized as a professional sport. 
While women have been racing bicycles since the 1800s, they haven't received the equal praise or continued support of their male counterparts. Which is no wonder why every single woman on Team TIBCO-Silicon Valley Bank has had an impressive career prior to hopping on two wheels, wondering if a jersey-cladden lifestyle is even sustainable for the long term. 
Women made their first Olympics cycling appearance in 1984 — about a century after the men. The first world championship women's road race? That came in 1958, staged three decades after the first men's World Championships. And the first women's Tour de France debuted in 1984 — but doesn't exist now.  
Women are also racing shorter distances than men, get less publicity than men, and earn a fraction of what men do. According to a 2020 Survey from The Cyclists' Alliance, the number of female professional riders receiving zero salary has increased from 17 percent in 2019 to 25 percent in 2020 (Editor's note: All riders on Team TIBCO-Silicon Valley Bank are paid, something that was of the utmost importance to Linda Jackson upon founding the team).   
Big viewership of events means more advertising revenue, but that's a hard thing to generate when networks are hesitant to host female events, concerned about attracting eyeballs. Minimal media coverage of women's events makes it difficult to attract event sponsors for funding. It's a painfully frustrating cycle for riders and teams. The good news? The tables are turning. Year over year, the amount of airtime women's races are getting on TV is increasing, and the viewers are tuning in with record numbers.
"We're having to rely less on Twitter for results and updates," said Emily Newsom, a classically trained concert pianist and rider on Team TIBCO-Silicon Valley Bank. "I've been in the states and still able to see my teammates racing, and that to me is a huge sign of forward progress."
"I am so fortunate to be able to both have a family and be a pro. It doesn't have to be one or the other, and that's what I want to show women everywhere."
–Emily Newsom
New 2020 regulations stipulate that race organizers must facilitate at least 45 minutes of live broadcasting for Women's WorldTour races. With that momentum indeed comes the dollar signs. Tanja Erath, who traded in a career in medicine to pursue sport, is excited to see the positive advancements. "A lot of teams are adopting a minimum wage, and many are increasing it to meet the men. Us being loud and speaking up, it makes a difference. I get to ride my bike and live my dream, and hopefully make a difference for women coming into the sport now and forever." 
For rider Lauren Stephens who taught high school math before switching to race full time, the updates to the WorldTour schedule are an example of the progress that women have made, beyond better pay and more team support.
"It's not important that we have races like Paris-Roubaix because the men have them, it's important because the public recognizes it," she said, adding that next to the Tour de France, this is likely to be one of the bike races that the American public has heard of. "We've been racing. We're still racing. But now specifically more and more fans are starting to realize that women are racing bikes, it is just as exciting as watching the men's race, and we want to build on that."
The Rise of the Female Cyclist
Women aren't just making themselves known on two wheels in the pro circuit, either. There's irrefutably a growing number of female cyclists, especially in the wake of the pandemic. As bike shops across the country sold through their stock and companies worked overtime to attempt to meet increased demand, cities from New York to Berlin saw a surge in female ridership. Globally, the median number of activities uploaded to popular activity tracking website and app Strava rose by an astounding 45 percent year on year among those aged 18 to 29.
This is the kind of change that makes team rider Emily Newsom enthusiastic about what's to come. "When I started out, I rode with a lot of guys who were totally welcoming and helpful," she said. "But over the years, it's been so great to see more and more women get into the sport. More women in the saddle is just more women showing the world that female cyclists can be strong and resilient, no matter what level they're at."
Emily, who has a daughter, lives in Texas, and still practices her first love, piano, once a week at a local cafe, is super grateful for the opportunities that have been afforded to her — not just as a rising female cyclist but as a rising female cyclist on Team TIBCO-Silicon Valley Bank. When she routinely grabs her team uniform, favorite pair of shades and yellow Cannondale Supersix Evo for her rides, she's enthusiastic about showing her daughter what strength really looks like.
"We're slowly seeing more mothers in cycling, too, and mothers that are supported by their team as they come back from pregnancy," she told Cannondale. "I am so fortunate to be able to both have a family and be a pro. It doesn't have to be one or the other, and that's what I want to show women everywhere."
Her teammate, Faulkner, feels the same way about empowering women of all sizes that they too can get on two wheels. "Compared to smaller girls that are riding at around 110 pounds, I'm a much bigger rider," she says. "But great cyclists — female or not — come in all shapes and sizes. But I'm strong and confident as I am, mentally and physically. Regardless of my weight. That's the most important part." 
And while nowhere near every female to clip in aspires to conquer the rugged French cobbles at high speeds, more and more are excited to cheer on their pro sisters in sweat, whether it be on in the farmlands outside of Paris or on American soil.
No Stone Unturned
Having six riders out on the course come fall is meaningful to Jackson, but this momentous occasion doesn't mean that the team isn't already thinking about what's to come. "I think we're past the point where we should be excited that we have the same opportunity as men, we should be expecting it," said Linda. "We have shown over and over again that we can do it."
Kristen — like many of her female counterparts — agrees. Despite her impressive racing debut that includes a 10th place at the Tour of Flanders, she hopes to be even more fit come October than she is now, enthusiastic about a potential full-time move to Europe next year to take her cycling to the next level. Alongside her team, she feels confident about where they're going and what they're capable of as a rising force in the women's peloton.
"I'm ready to be all in. For the Tour. For Paris-Roubaix. For all of it. TIBCO-SVB has never won a WorldTour race. I'm here to change that. I believe that together, we can."
–Kristen Faulkner
Ride the Road Together
Emily Abbate is New York-based veteran fitness journalist (GQ, SELF, Runner's World, and more), wellness coach, and host of the podcast Hurdle. When she's not tapping words to laptop or behind the microphone, she's likely running or cycling. The certified run coach and trainer has conquered nine marathons to date, and she aspires to finally go bike packing this summer. Follow her on Instagram, @emilyabbate.
Add another bike to compare
Highlights
Where It Thrives
What It's Built For
Specifications