The Best Beginner Road Bike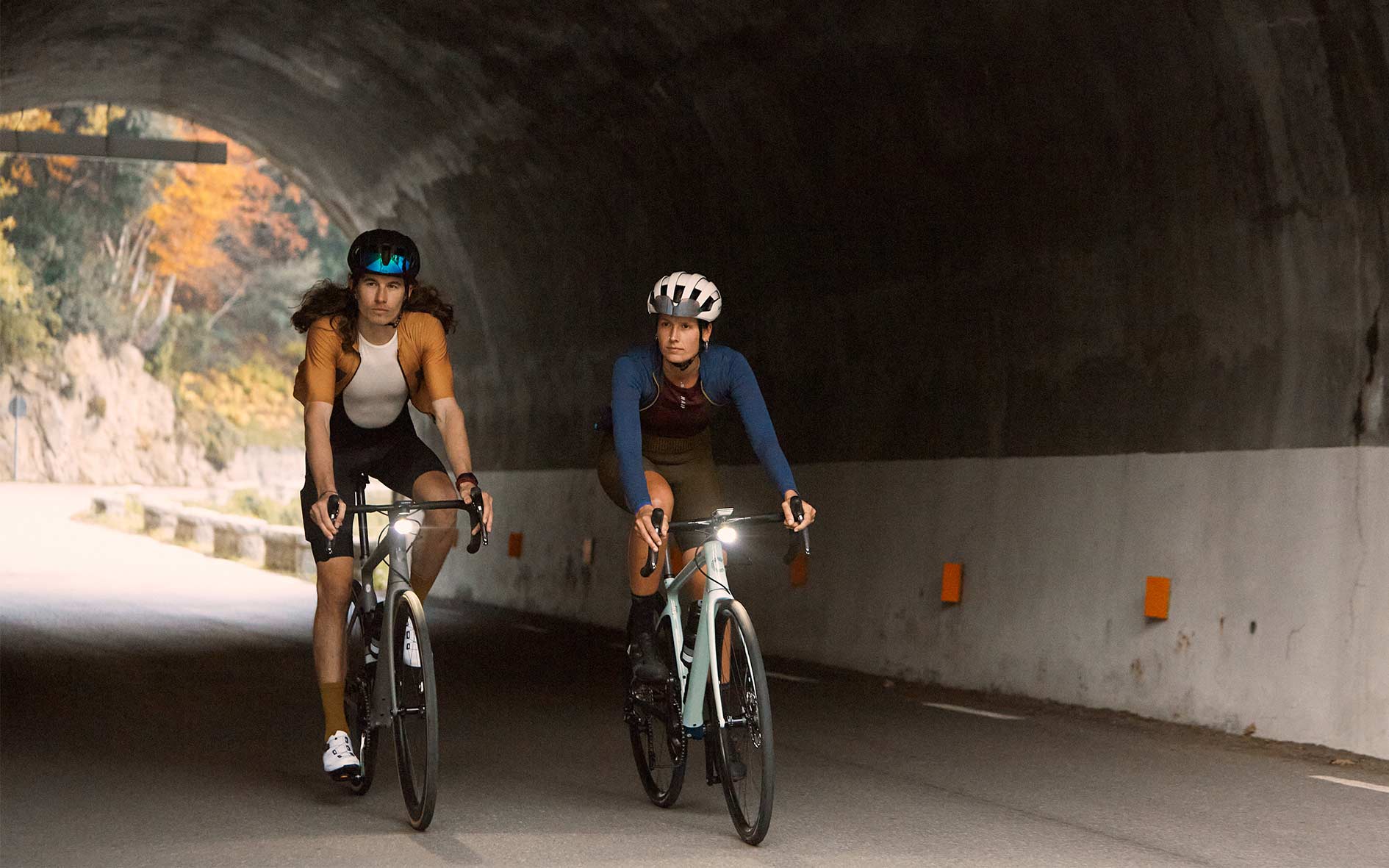 Find out what's the best beginner road bike with our beginner's guide to Cannondale road bikes.
One of the most common challenges beginning road cyclists face is confidently answering the question of which bike to buy. When you're new to the sport, it can be hard to know the important items to consider and have a feel for which qualities are desirable.
If you're one of these folks, you're in the right place. This article will help you dial into the important considerations when buying a new road bike and understand which Cannondale model is right for your budget and the riding you want to do.
Buying Considerations for Beginner Road Bikes
It's important to understand that there's not a "best" bike for every rider. That's because each cyclist has a unique balance of preferences, wants, and needs, which ultimately impact the features and qualities they seek in a road bike.
This article will focus on drop-bar road bikes, but if you're looking for a flat bar bike to ride on roads and trails, check out our active/hybrid bike lineup.
Next, we'll walk you through the questions you should ask yourself as you prepare to find the best road bike for you.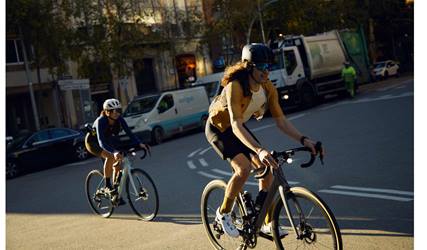 Where do you want to ride?
The question of where you want to ride is one that you'll want to answer, or at least think about as you start your new bike search, as the definition of a 'road bike' is constantly evolving.
In fact, gravel biking is one of the fastest growing cycling disciplines, and an entire new genre of bicycles. With wider tires, lower gearing and frames designed to handle rough gravel roads, gravel bikes bring a whole new perspective to road riding.
With its wide-range gearing, smooth riding alloy frame and carbon fork, and clearance for up to 45c tires, the Cannondale Topstone 4 gets our vote for Best Beginner Gravel Bike. Riders looking for even more performance should check out Cannondale's new Topstone Carbon 4. Equipped with a full carbon frame and fork, the Topstone Carbon 4 features Cannondale's exclusive Kingpin rear suspension, which delivers a smoother ride without the complexity of a hydraulic shock.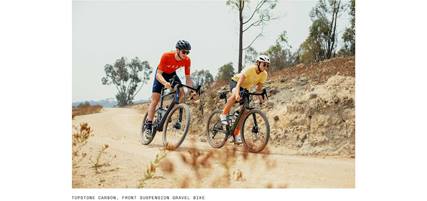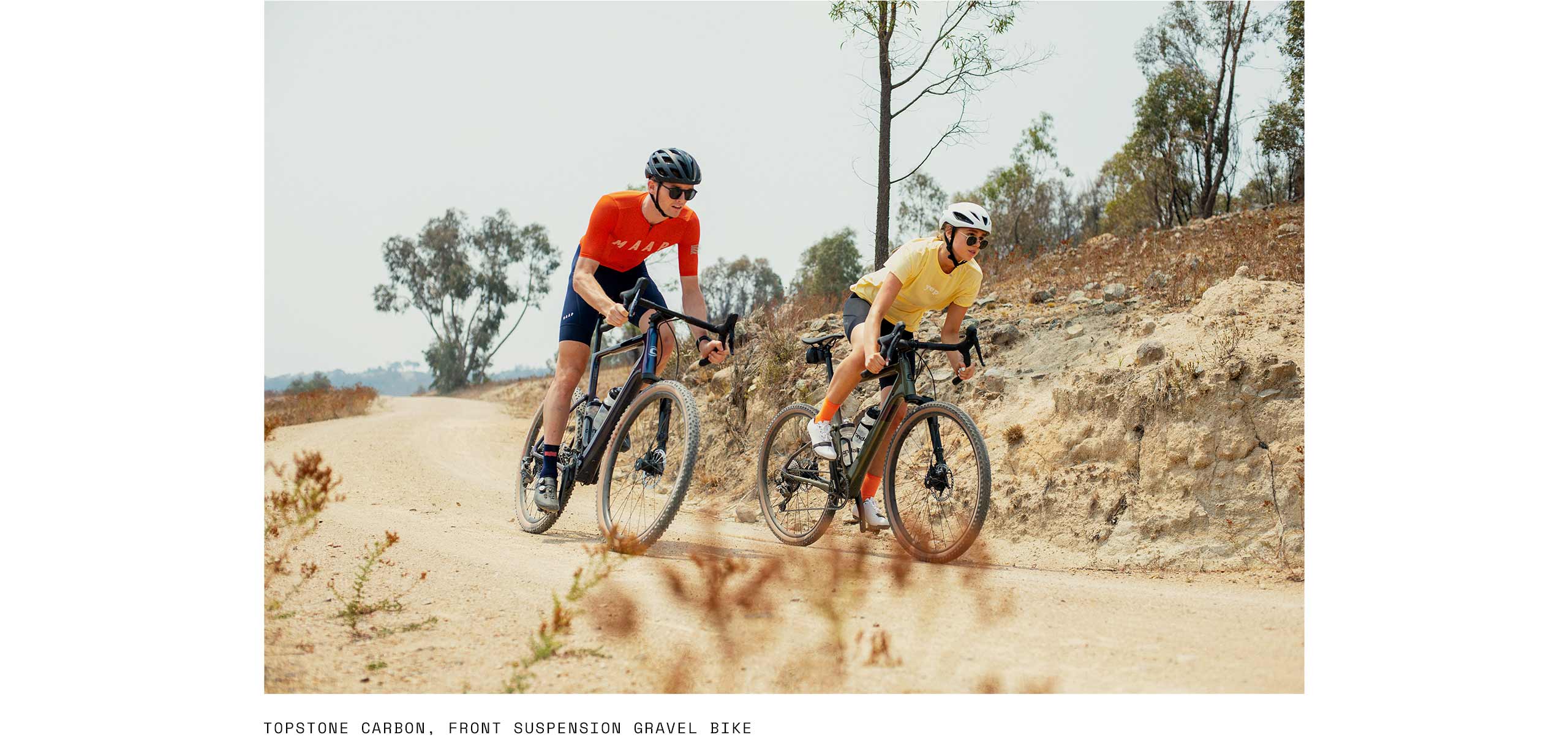 If you're looking to primarily stick to paved roads or paths, there are still options to consider based on how you want to ride and your riding priorities. If you're focused on speed and aerodynamics, or perhaps competing from time to time, a race bike will give you the performance and razor-sharp handling you need to perform at your peak.
For nearly four decades, Cannondale's CAAD frames have set the standard for alloy race bikes and the CAAD13 is the best CAAD yet. Equipped with a carbon fork and 2x11-speed Shimano 105 drivetrain, the Cannondale CAAD13 Disc 105 takes the Best Beginner Race Bike award. If you're looking for a full carbon frame and fork, the Cannondale SuperSix EVO Carbon Disc 105 is just what you're looking for.
Endurance Road Bikes are ideal for riders looking for a little more upright, more comfortable bike that's still capable of getting up and going fast. They're also a popular choice for riders looking to do longer road rides or multi-day tours or events.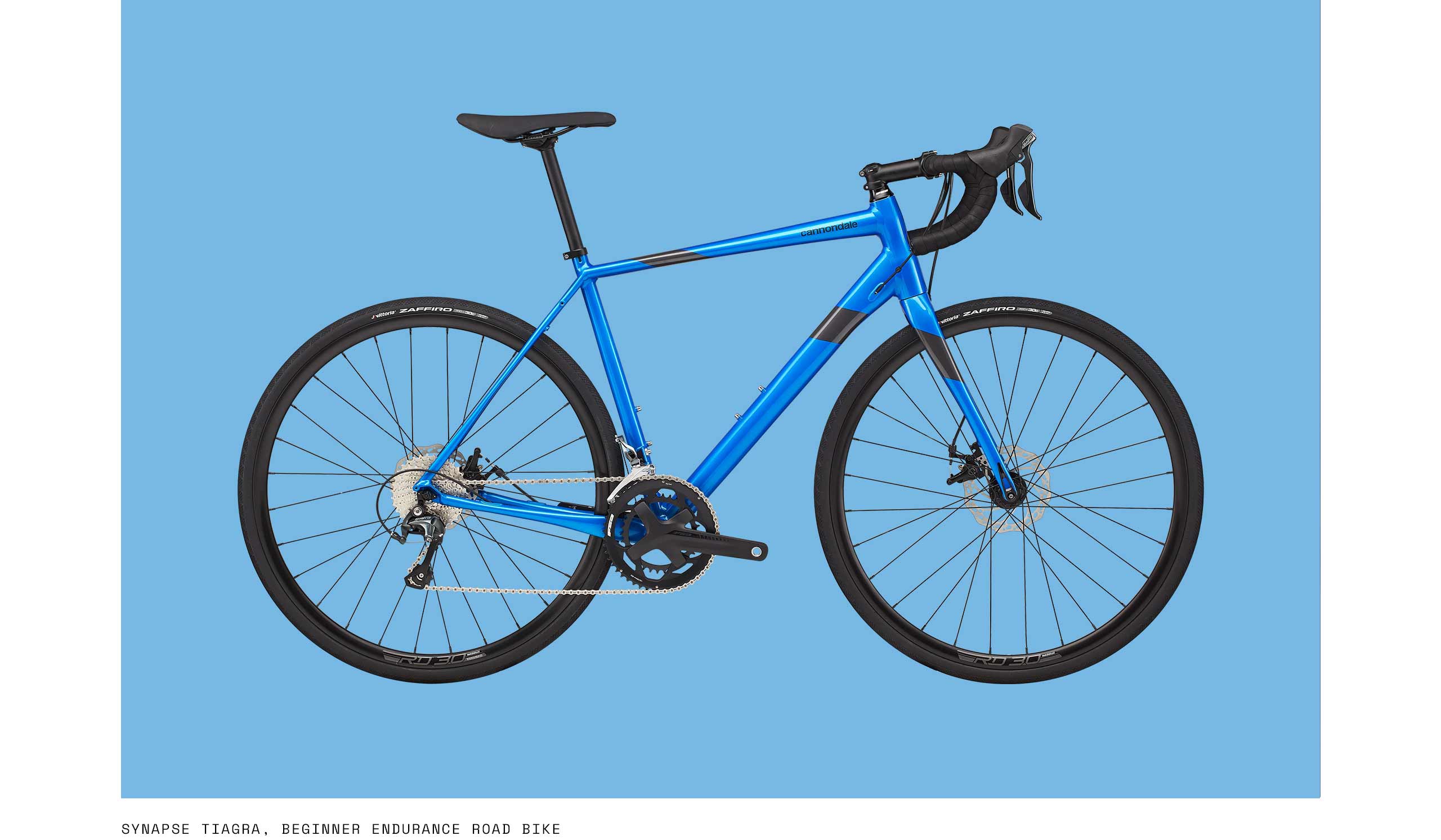 Designed to be smooth, comfortable and fast, the Cannondale Synapse Tiagra is our pick for the Best Beginner Endurance Bike. The lightweight SmartForm C2 alloy frame and full carbon fork is complimented by a wide-range 2x10-speed Shimano Tiagra drivetrain and powerful, easy to control mechanical disc brakes. Riders looking for a little more performance should check out the Synapse Carbon 4, with its full carbon frame and fork, 2x10-speed Shimano Tiagra components and upgraded hydraulic disc brakes.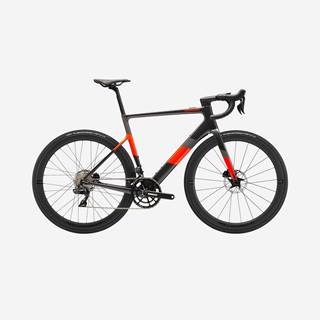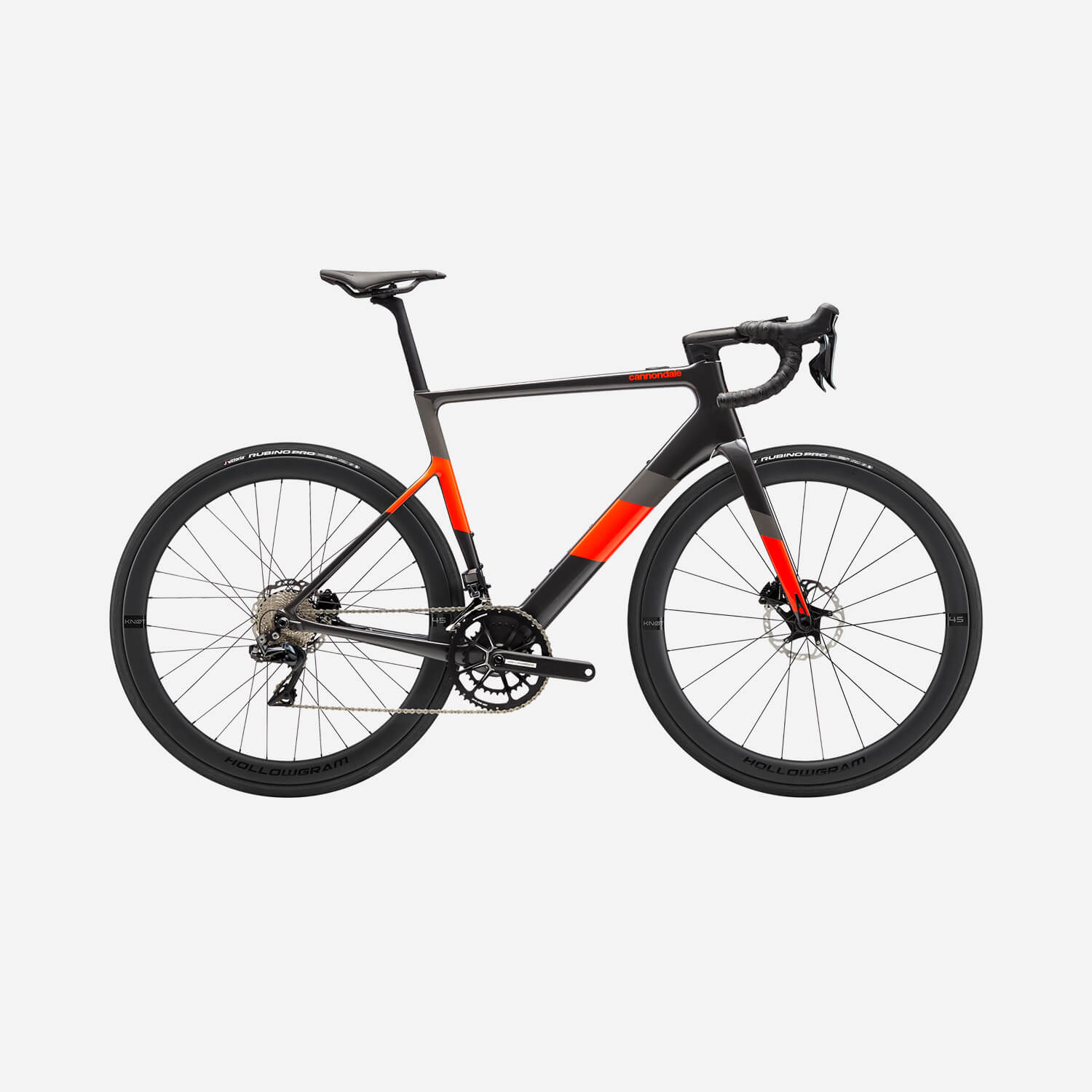 Road E-Bikes
While we won't focus on them in this article, if you're looking for an electric road bike, we offer a complete line of race, endurance and gravel e-bikes for you to choose from.
SHOP ROAD E-BIKES
How much do you want to spend?
While it's true that you can spend more than $13,000 on an ultra-premium road bike, you certainly don't need to spend that much to get a great entry-level road bike. Cannondale's premium performance road bikes start at around $1,000, and while you can find road bikes for less, in cycling you really do get what you pay for.
It's worth spending a little more to receive the superior handling and ride experience a premium road bike gives you. Ultimately, you'll have more fun, and you won't have to worry about immediately upgrading your equipment as your love of cycling grows.
Pedals are often not included in the retail price of the bike. As a result, it's important to factor the price of pedals, as well as a helmet, cycling shoes, apparel, and repair items such as a pump and tools, into your overall budget. We recommend budgeting $300-600 for these items.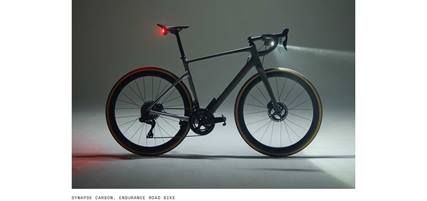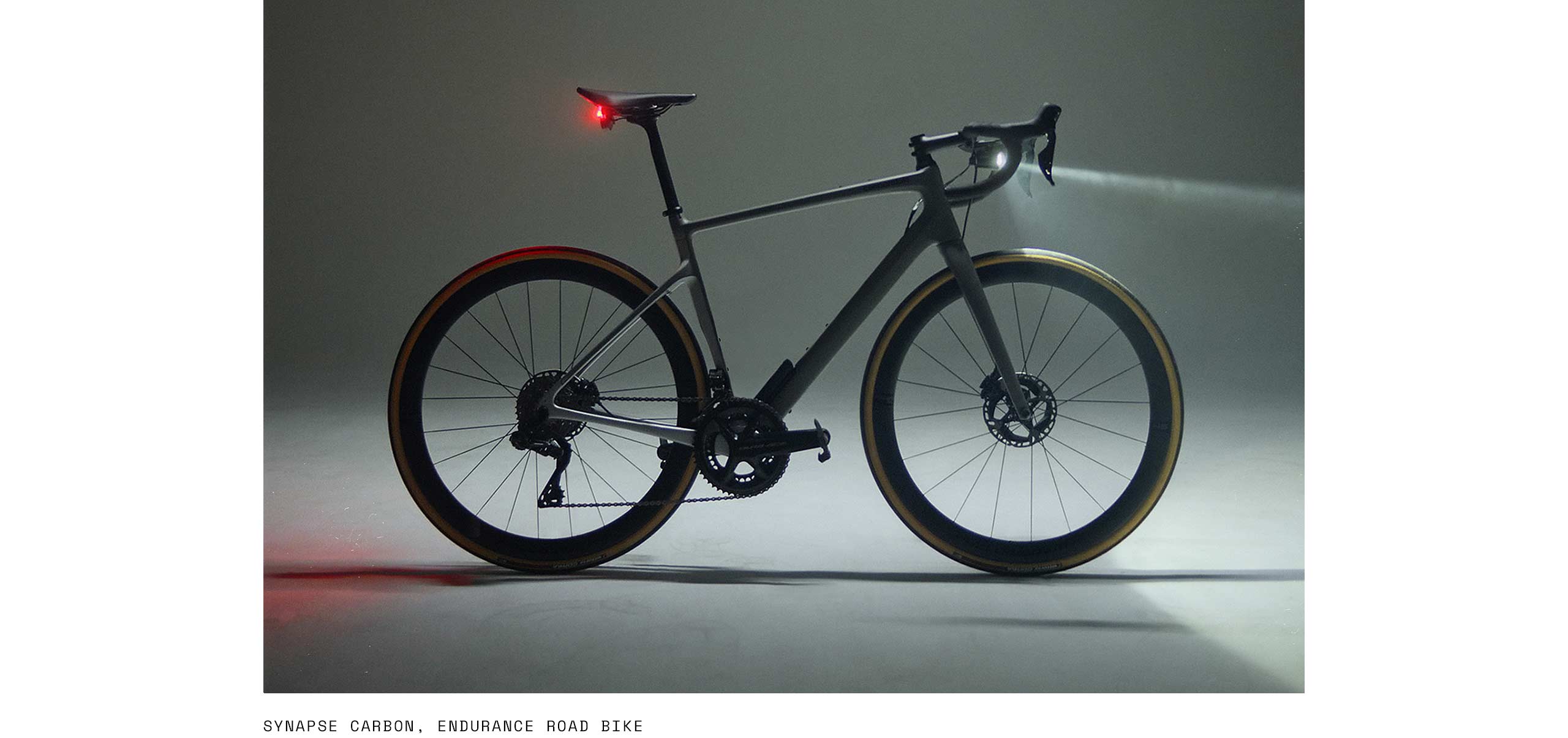 Are you looking for advanced comfort features?
If a comfortable ride is one of your main priorities, we have you covered. In fact, each Cannondale road bike is equipped with our proprietary comfort enhancing design features. Our CAAD Optimo, CAAD13, alloy Synapse and alloy Topstone models feature engineered flex zones in their SmartForm alloy frames, designed to offer a smoother ride. Each of these models also features a carbon fork that reduces the vibration and bumps felt through the handlebar.
Our award winning Topstone Carbon models feature Cannondale's exclusive Kingpin suspension, which actively smooths bumps at the rear tire, while our amazing Lefty Oliver gravel suspension fork provides up to 30mm of travel at the front wheel.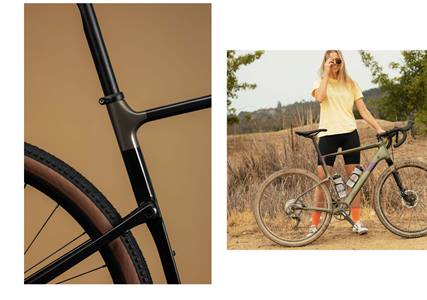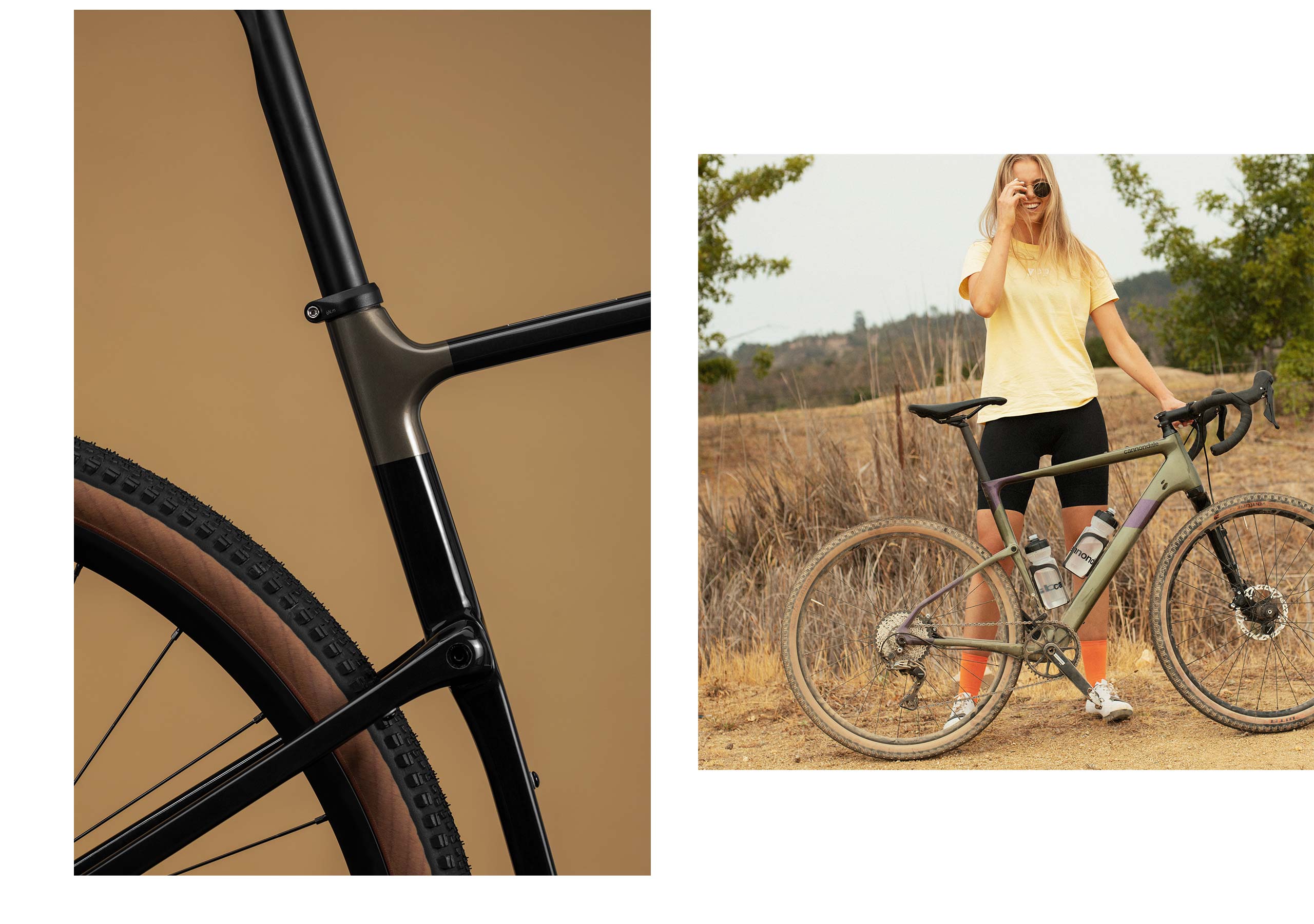 What Do I Get as I Move Up the Price Range?
Typically, as you move up in price, road bikes get lighter and more responsive, with smoother operating, higher end shifting and braking systems. Alloy frames get replaced by lighter carbon fiber models, and wheels switch from alloy rims to lighter, tougher carbon fiber rims, often equipped with premium high-end tires. In addition, as price increases, you'll see lighter, higher end touch points, including the handlebar, stem, seatpost and seat.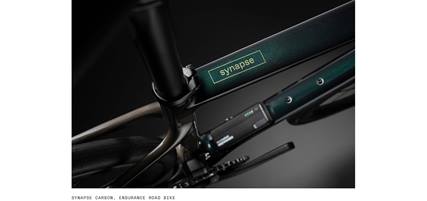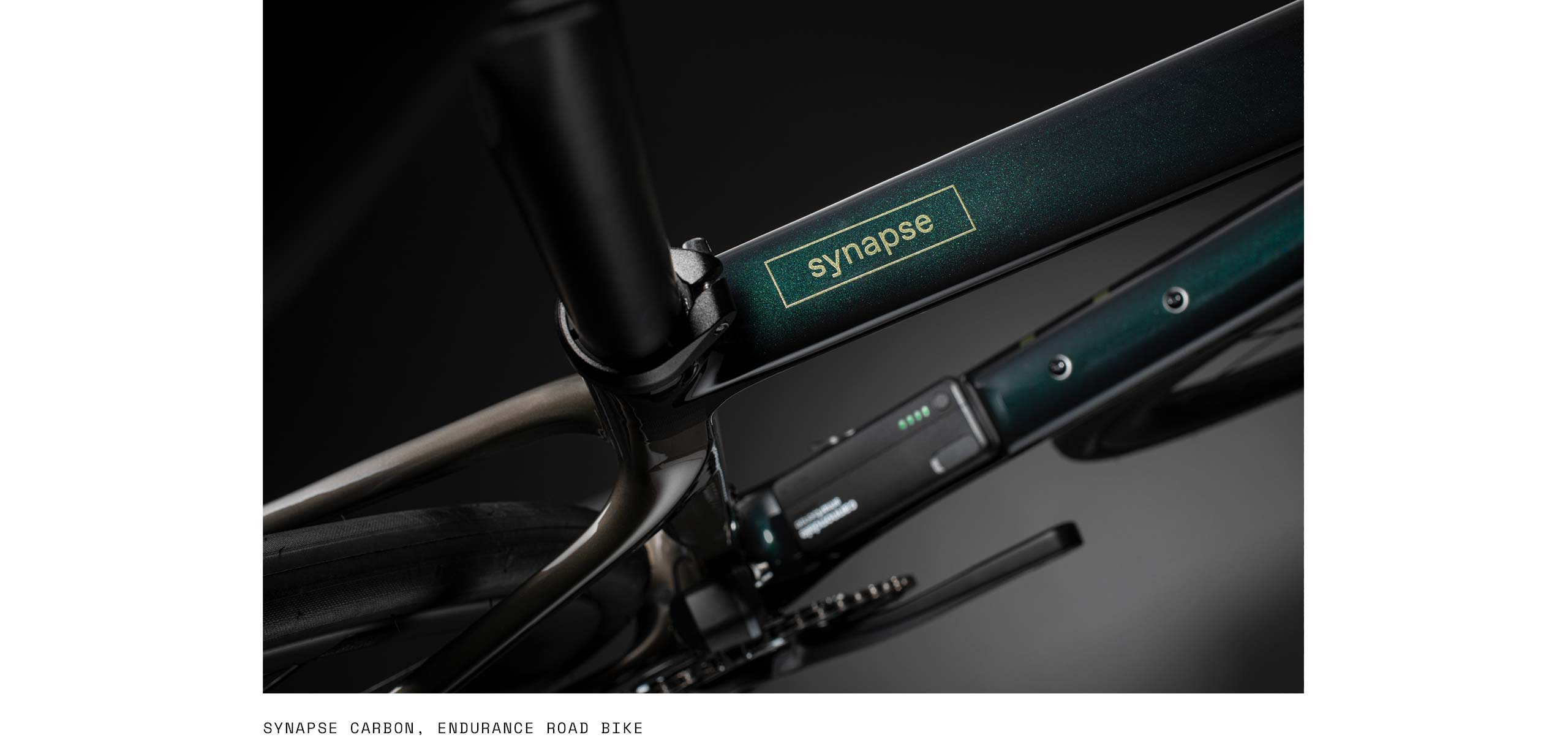 What Decisions Will I Need to Make? Next, we will walk through the decisions you can expect to make as you consider your new road bike.
Frame Material
The two primary frame materials used in premium performance road bikes today are heat-treated aluminum (or alloy) and carbon fiber. And while carbon fiber offers the absolute highest performance and lightest weight, for most beginning cyclists, a quality alloy frame road bike offers the best combination of performance and value.
Cannondale pioneered the use of aluminum for bicycle frames back in the 1970s, and as a result our expertise with the material is unmatched. Aluminum is light and strong –– ideal for building fast, long lasting road bikes with unmatched value for the money.
Our carbon fiber road bikes are some of the lightest, fastest bikes in the world. Raced at the highest level, including in the Tour de France, our carbon road bikes are the pinnacle of performance. Our goal is to engineer that same passion and performance-first character into every road bike we make, alloy or carbon.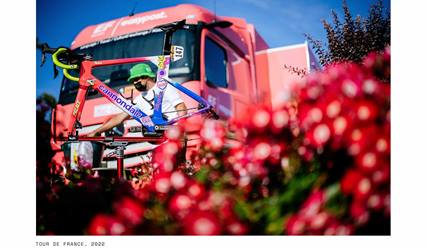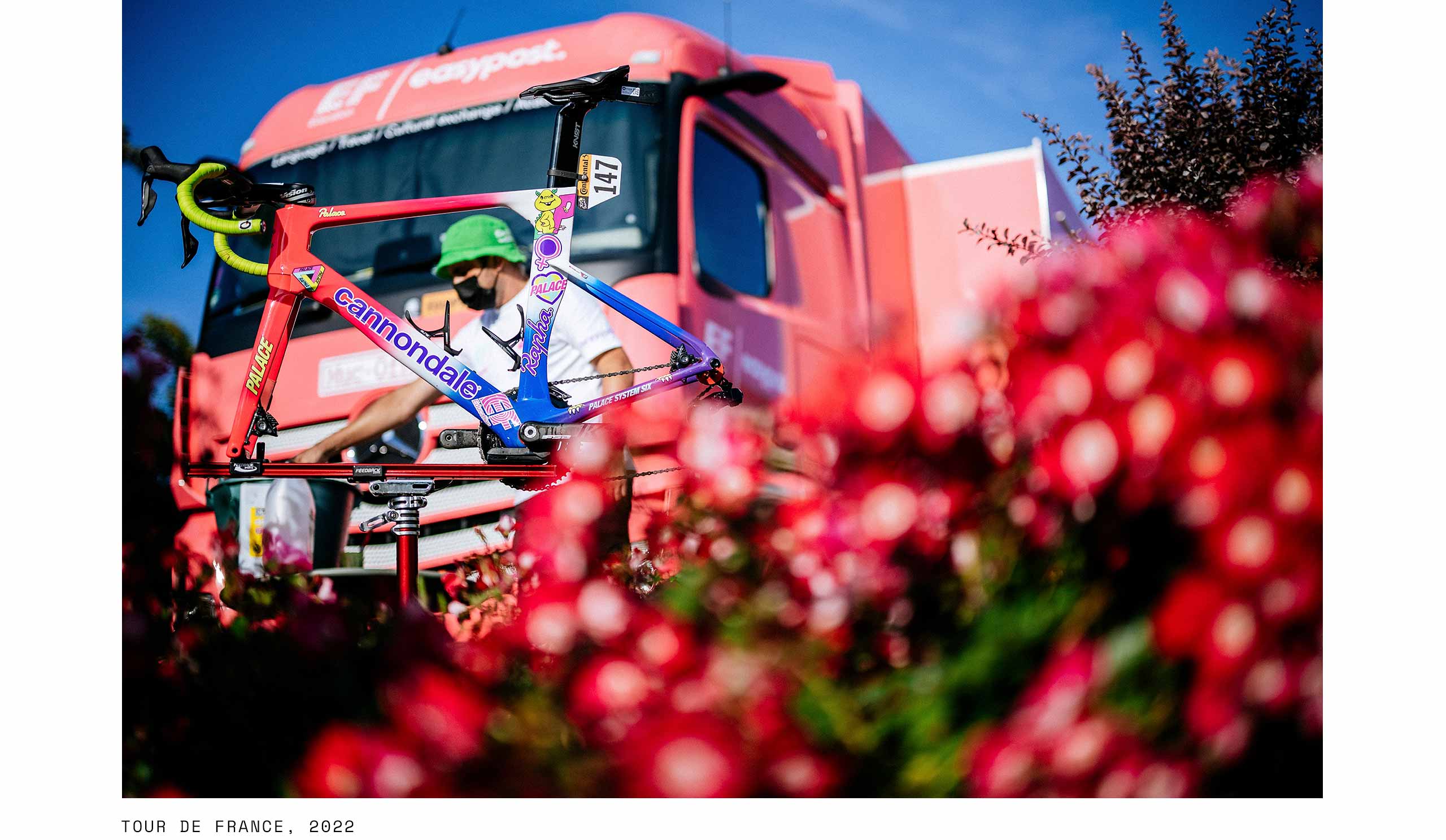 Drivetrain Components
While most mountain bikes have moved to 1x (say 'one-by') drivetrains, with 1 gear in the front and only one shifter, road bikes use a combination of 1x and 2x drivetrains (two gears in the front).
Many road riders still prefer 2x drivetrains because they provide a wide range of gears, and the ability to select a gear combination that offers a straighter, more efficient chainline. That said, dedicated 1x road components from Microshift, Shimano, and SRAM are winning over more and more riders every day, especially among gravel road riders.
At the high end, drivetrain components move from mechanical (cable-operated) shifting to electronic shifting. For long-distance riders, or those with hand strength issues, electronic shifting can make it easier to shift the bike with reduced hand strain.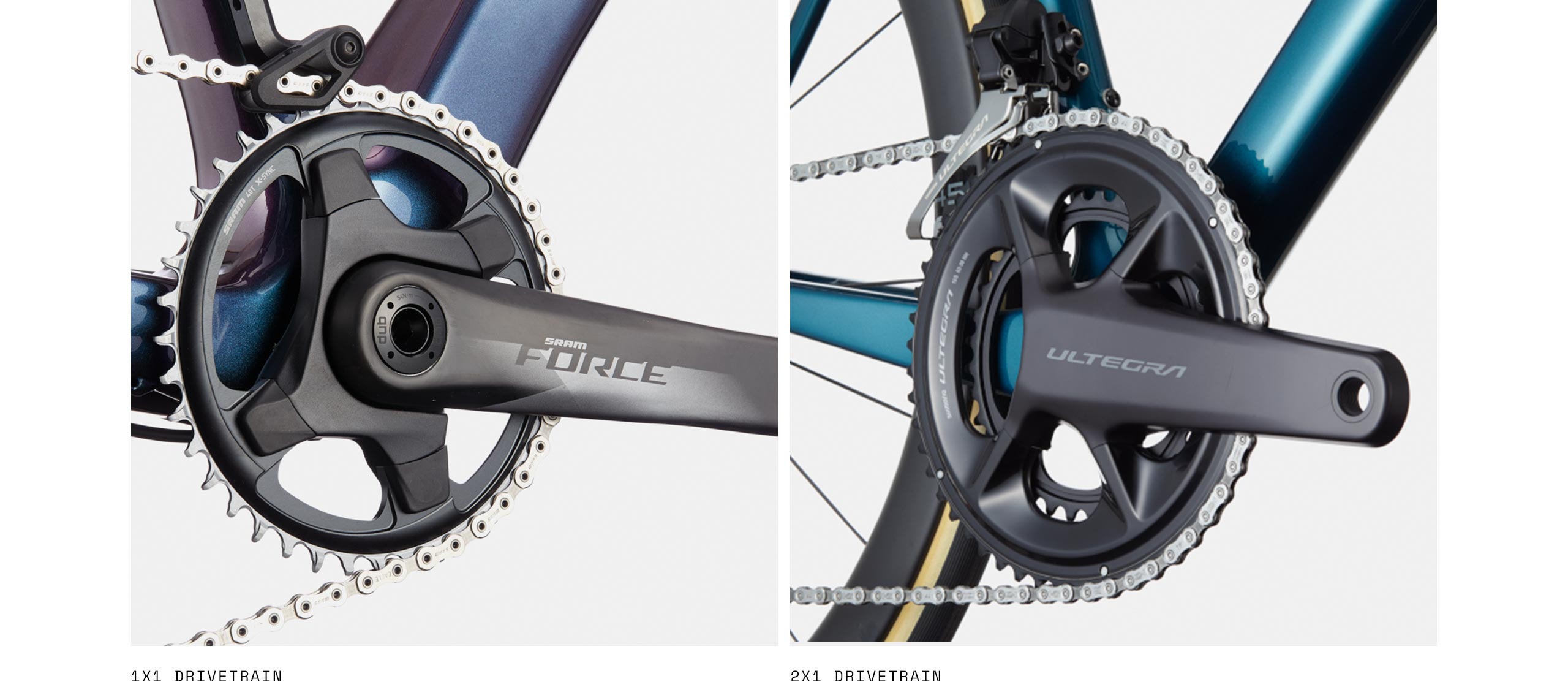 Brake Type
For centuries, road bikes relied solely on rim brakes, in which the brake pads brake directly against the rim, for stopping. In the past decade, motorcycle-style disc brakes have gained widespread acceptance among road riders, and today most high-end road bikes are disc brake equipped. While rim brakes are a little lighter weight, disc brakes offer superior stopping power and modulation in any conditions, wet or dry.
Our alloy road racing bikes, the CAAD Optimo and CAAD13 are the two road bikes in the Cannondale line available with rim brakes. CAAD13 models are available with a choice of rim or motorcycle-style disc brakes.
Every other Cannondale road bike model is solely disc brake equipped, as the majority of experienced road riders have already embraced the added power and feel disc brakes provide.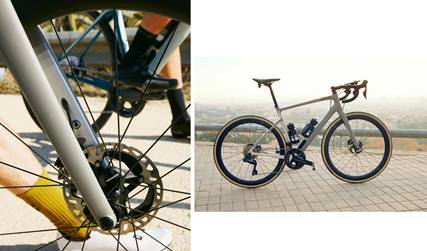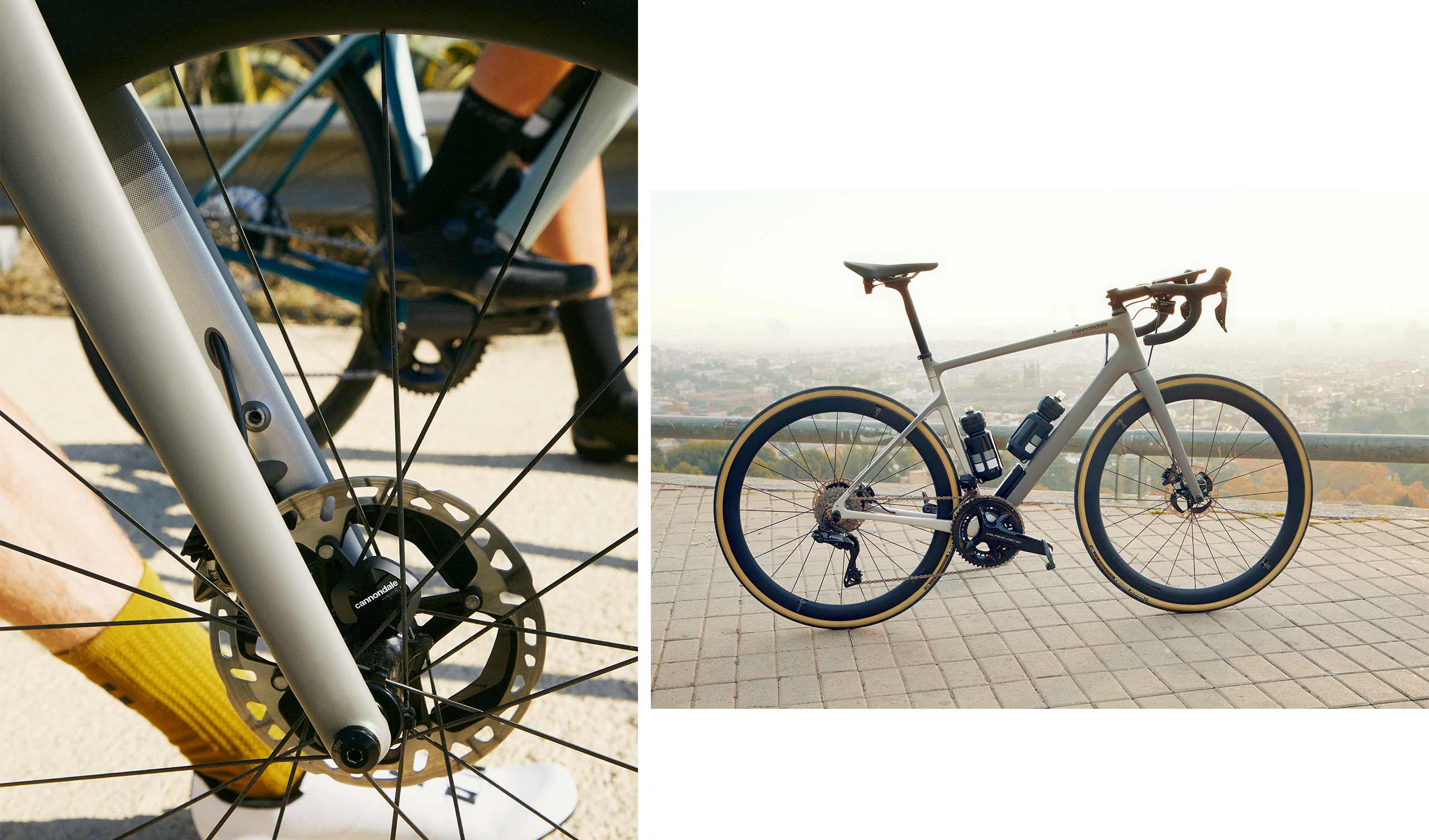 Wheels and Tires
One of the hardest to see, yet most impactful upgrades you get as you move up in price in road bikes are in the areas of wheels and tires. At the entry-level, you'll find traditional tube-type rims and tires, but as you move up in price, wheels and tires will start to be tubeless-compatible, which means they're designed to run without tubes.
Instead, tubeless tires use a liquid sealant inside the tires, which provides protection against punctures, the most common cause of flat tires. The sealant needs to be refreshed every 3-6 months, as it slowly dries up over time. For many riders, this extra periodic maintenance is a small price to pay for the peace of mind tubeless setups offer on the road.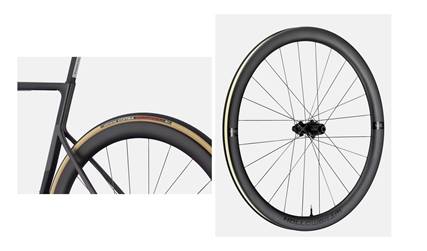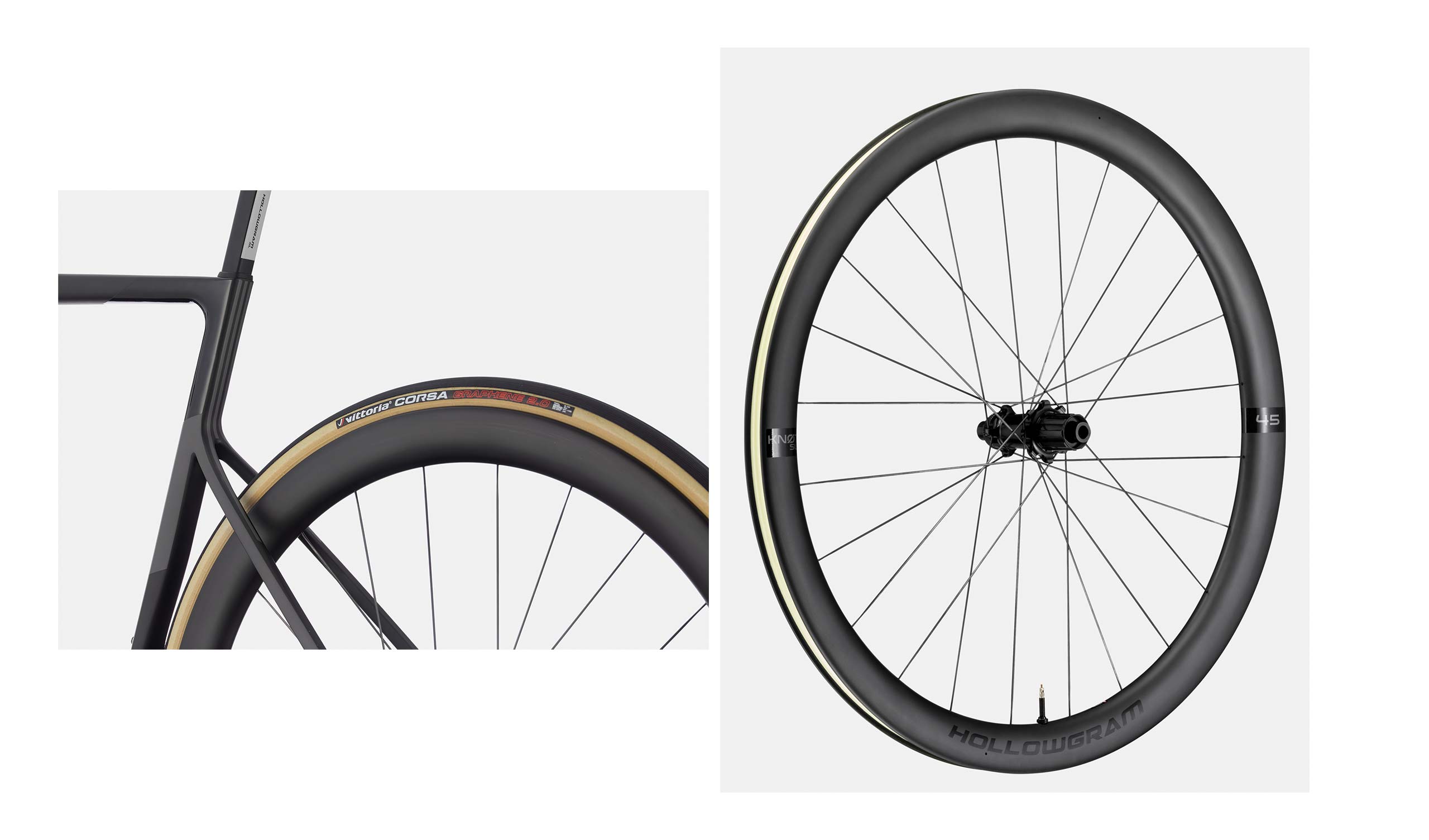 Upgrade Potential
One basic truth when buying a new bike is to buy the best frame and fork you can get for your money. Virtually every component on a bike can be replaced and upgraded, but it's only worth doing if the frame and fork are worthy of upgrading.
A common mistake beginning road riders make is to buy a bike that can't grow with them as their passion grows. That's why, at Cannondale we work hard to build as much quality and value into every road bike model, so our bikes are worthy of upgrades down the road. You deserve a bike you love to ride, regardless of where you're at in your cycling journey.
Like what you see?
Learn more about the bikes featured in the story above.
Let's find you a bike.
Still not sure which bike is right for you? Use our bike finder.
Go to bike finder
Add another bike to compare