Mona Goes Two-Up in Les Gets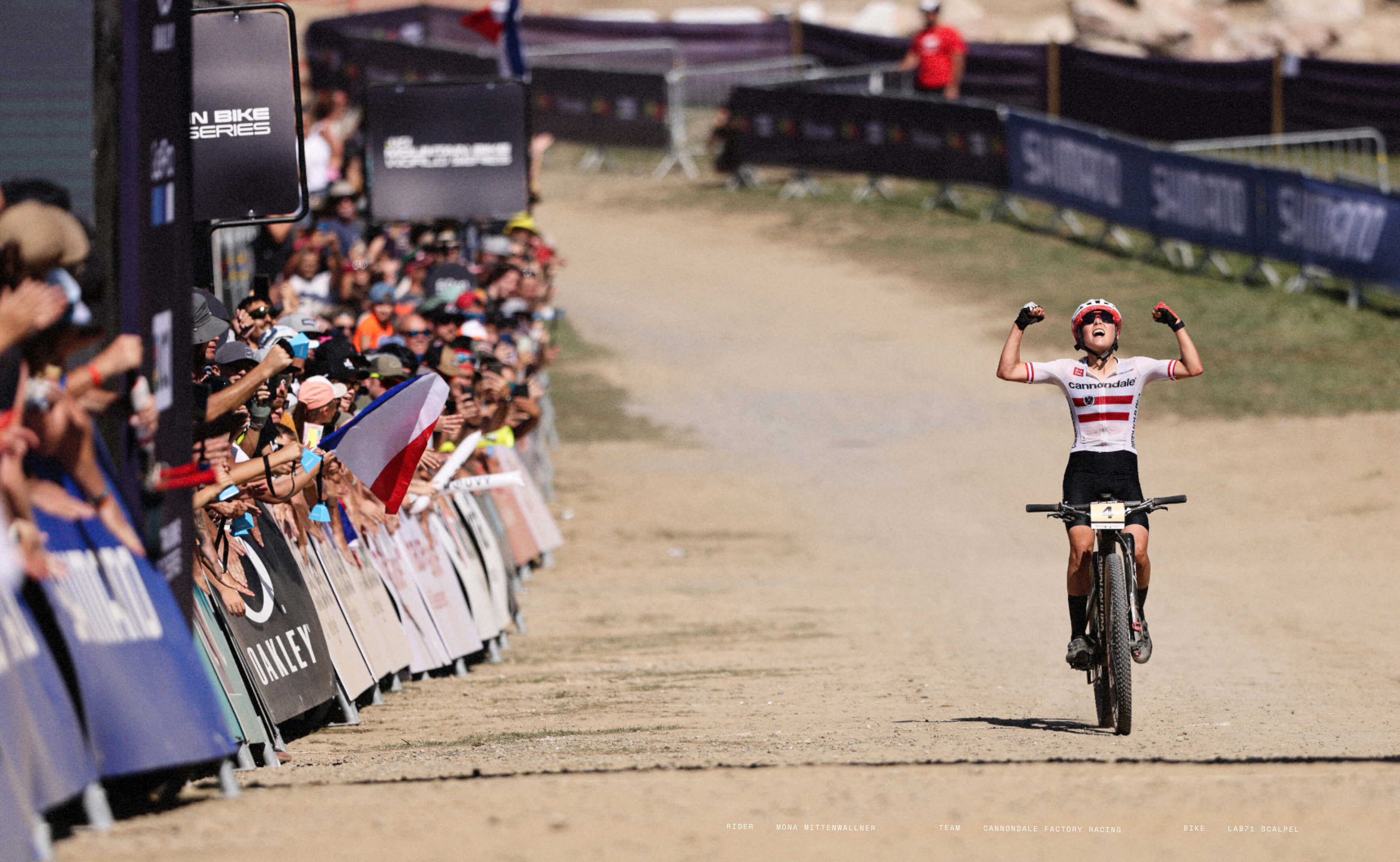 How can a World Cup XCO mountain bike race be both predictable and yet exciting? When Mona Mitterwallner lines up.
It's predictable, because the 21-year-old has been so steadily dominant in events like this.
But it's exciting, because of just how dominant.
And yet it seemed that the universe had tried to mix things up a bit, wanting to give Mona more of a challenge this time. Clearly, poor weather and course conditions weren't enough to hold back the Austrian phenom or her LAB71 Scalpel previously, as evidenced by her muddy World Cup win in Andorra only weeks earlier, and an even filthier Marathon World Championship victory in Scotland before that. She seems to be simply impervious to the elements – so how to make things harder?
Mona had taken sixth place in the short track event less than 48 hours earlier, crossing the finish with severe stomach cramps that hadn't let up by the time she lined up to start today's XCO event. She knew what needed to be done, however, and tried to focus on the task before her: produce another WC victory.
And she did.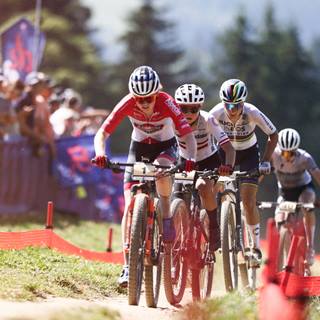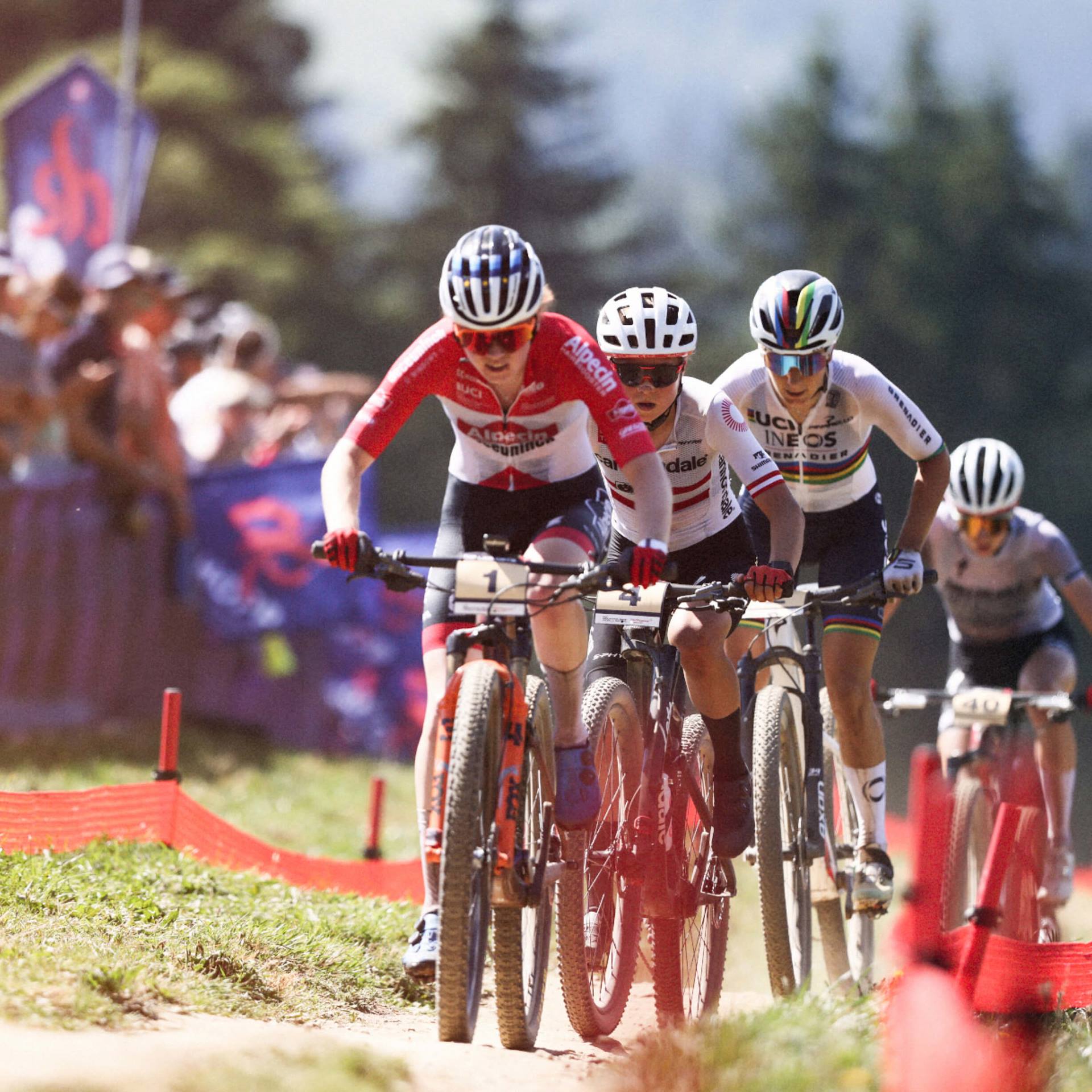 "It looks like my head is stronger than my body," she added. "That gives me a lot of confidence."
A dry, beautiful day in the French Alps set the stage for the day's race. As has become her trademark racing strategy, Mona kept her cool off the bat. She moved calmly through the course, steadily working her way up and finding the front of the pack, eventually breaking off with reigning World Champ Pauline Ferrand-Prevot and Dutchwoman Puck Pieterse. The trio would slowly grow their gap over the other riders for a few laps. Still, it looked like anyone's race at this point.
But like a prowling lioness, Mona was simply waiting for her moment. It came in the third lap. Midst a wooded uphill section of the course, the single trail briefly split into two parallel trails for about ten meters. It was here that Mona exploded on her LAB71 Scalpel, taking the right-side line. By the time the trails merged again, Mona already had a gap. Pieterse and Ferrand-Prevot have seen this before, yet must have still been bewildered. In seconds, Mona was gone.
By the time she reached the finish, she'd put in the fastest lap of the day, along with a massive 38-second gap was between her and silver medalist Pieterse – even greater than the 33-second distance by which she'd won her first elite World Cup victory in Andorra weeks prior.

Predictable, yet exciting.
Hoisting her Scalpel above her head after crossing the line, you'd never have thought she was feeling sick through it all.
"I didn't feel very good after the short track," Mona conceded after the win. "I went all-in... and recovery wasn't so great. But as I said, I won the mental game against my head, and all it was [just] putting the emotions aside and keep grinding."
"It looks like my head is stronger than my body," she added. "That gives me a lot of confidence."
Add another bike to compare