Family Fun by E‑Bike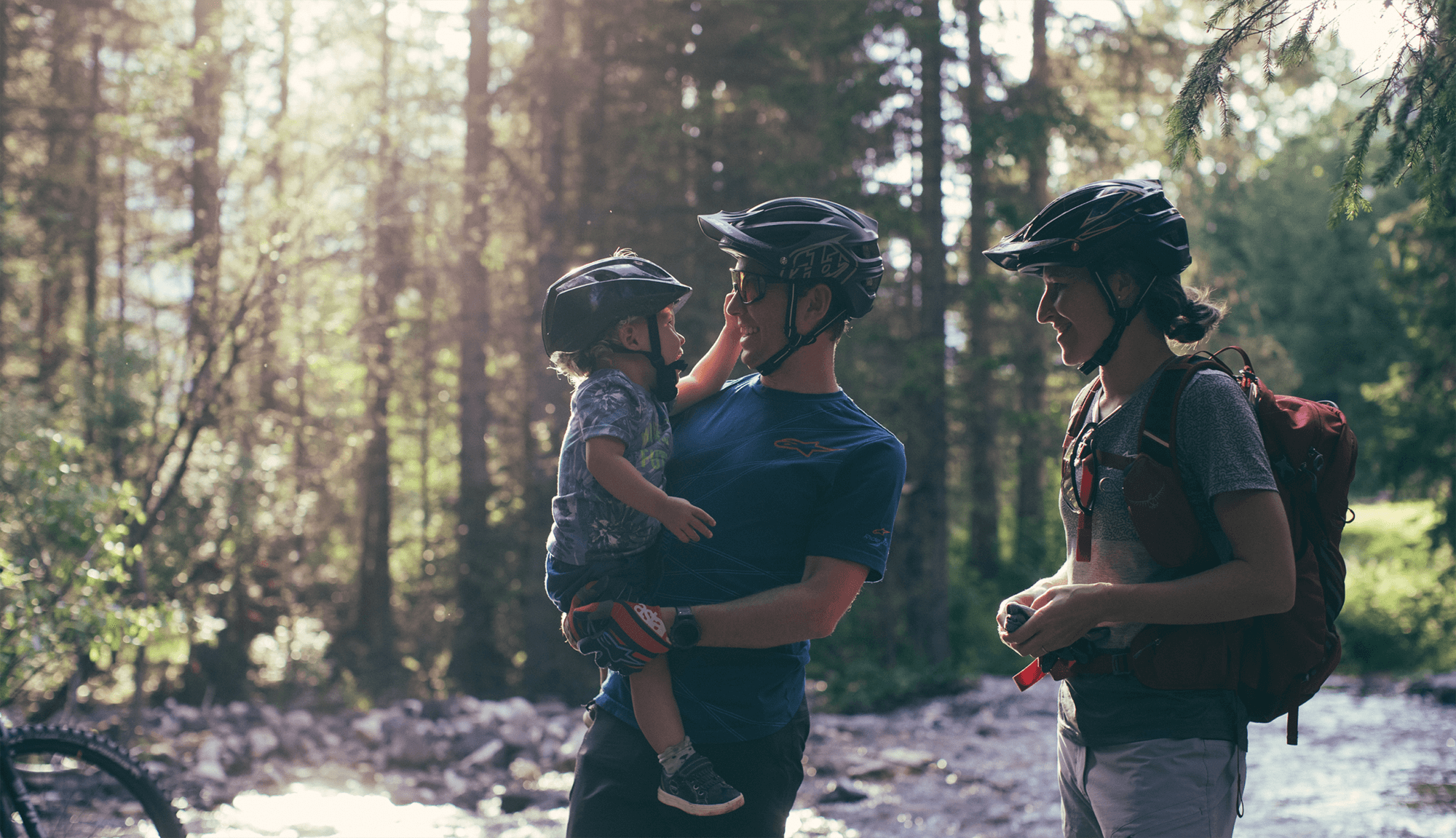 Ride Guide: How to make riding fun for the whole family.
As more and more people choose the freedom of two wheels over fossil-fueled four, the great outdoors are opening up more than ever before. And what can be better than getting the whole family out for a bike ride adventure? Whether it's a fun day out exploring new neighborhoods and enjoying city-center parks across town, or venturing into the open countryside in the hills and forests, bike rides offer up all sorts of possibilities.

With a whole family on the ride across a range of ages, abilities and sizes, you'll want to take some extra bits and pieces with you: you'll probably need a picnic, extra clothing, some snacks, a backpack or two, some more snacks, plenty of drinks, waterproofs just in case, and some extra snacks. And the best way of hauling all of this around with ease is undoubtedly an e-bike. With some extra power behind you, having an e-bike will make your bike ride even more fun and enjoyable – so here's our guide for becoming a super-parent and getting the most out of family time.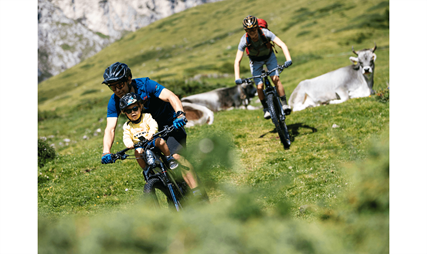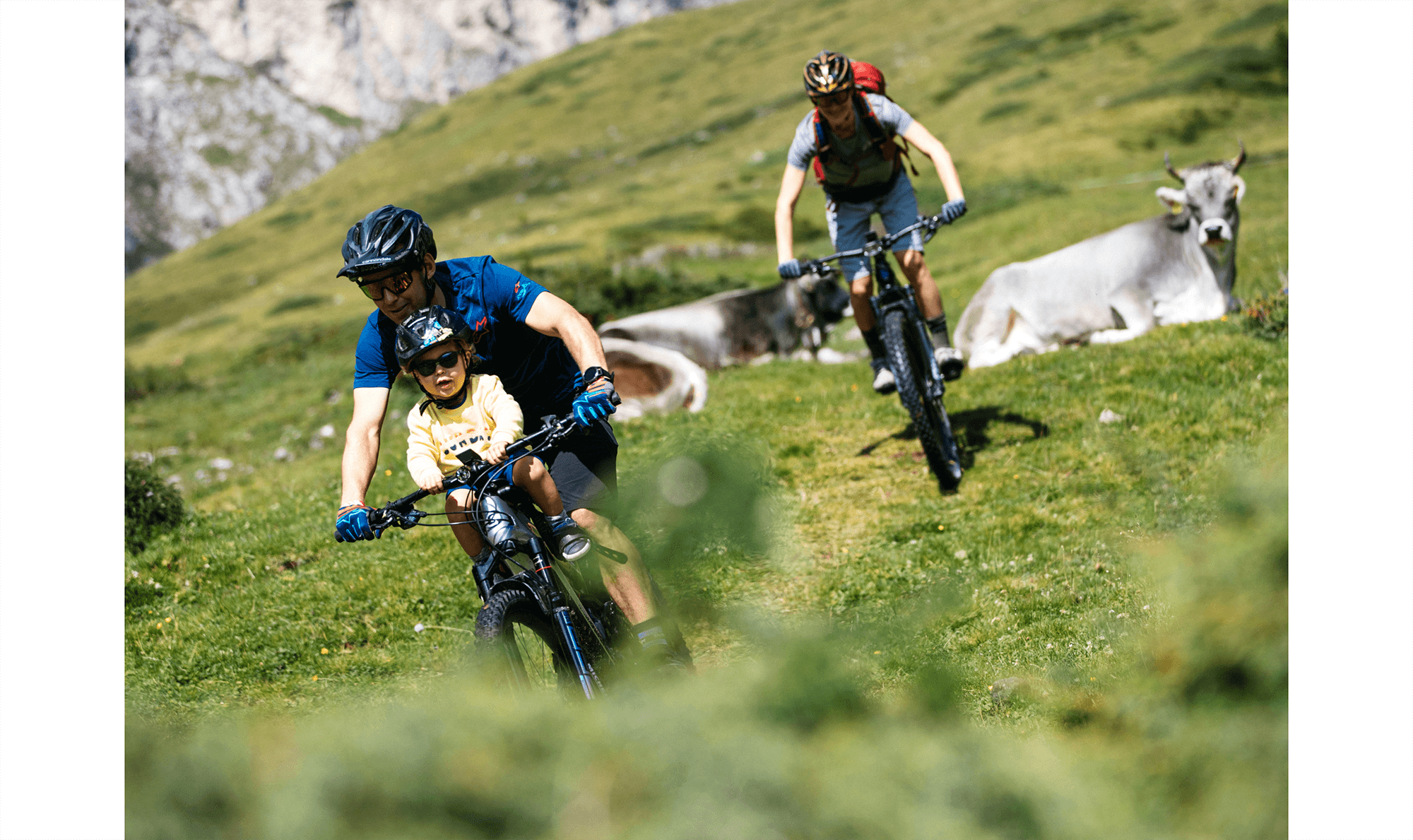 What's the best e-bike to use? 
E-bikes come in all shapes, sizes and types, and the choice can often seem overwhelming at first – but with some simple considerations, the choice becomes much easier. We asked long-time friend of Cannondale and expert family bike-ride leader Jerome Clementz, to help everyone out here. Jerome loves nothing more than riding his e-bike across the hills and mountains in Europe with his young, growing family. His first bit of advice for choosing the best e-bike, "The bike needs to match the type of trail you are going to ride. I would suggest picking an e-bike you feel comfortable on. You can use a trekking version, a hardtail or even a full-suspension mountain bike, as long as it's designed for the terrain you'll ride."
Speaking of which, does everyone on the ride need an e-bike?  
The short answer is no – but it definitely helps if the adults are riding e-bikes, for their extra power and capacity to carry all those extra snacks. You'll probably be wearing backpacks containing a day's worth of family stuff, and riding an e-bike makes it a lot easier to carry everything around. The best choice for your smaller kids is still a regular bicycle – with its light weight, ease of use and simple design, a regular bicycle is still the most enjoyable option for the younger members of your family.
Jerome explains the ideal setup for a great day out, "I think it's the best if Mum and Dad could be on e-bikes, so everybody is on the same level. My kid is not yet old enough to pedal himself, so we carry his little pushbike on the back or in the bike-trailer, but there are some options that exist if your kid is old enough and able to pedal. There is a bolt-on handle system you can put behind the seat on your kid's bike to help push them up the climbs and be safe at the same time."
Can you tow a bike trailer behind an e-bike?
There are a variety of options for hauling cargo and kids alike. Firstly, you'll need to talk to your bike shop about whether your new electric-bike is compatible with a particular bike trailer or child seat. A bike shop should help you out to ensure it's a perfect and safe fit. A bike trailer can be a huge benefit – "Especially if your tour includes some climbing. An e-bike makes the trailer the best way to carry your young kid around. We also use a trailer in our everyday life, not only for holidays. We go to the local grocery store, to the kindergarten, to visit friends. It has basically replaced the use of the car for short travel." This is a very good point – an e-bike fitted with a good trailer can easily replace your car for local everyday journeys.
"An e-bike fitted with a good trailer can easily replace your car for local everyday journeys. "
For bringing your kid a bit closer, the clamp-on or bolt-on child seat is a time-tested solution. The primary version mounts beneath your saddle and tucks your child behind you to place the added weight over your rear wheel. A great option for mountain bike riding clamps to the bike's top-tube just behind the handlebars and keeps your kid tucked between your arms. This gives your kid a stimulating and exciting front-row seat, perfect for the soon-to-be rider. With the extra power of an e-bike, having the extra weight of your young'un sat in a child-seat on board is no problem at all.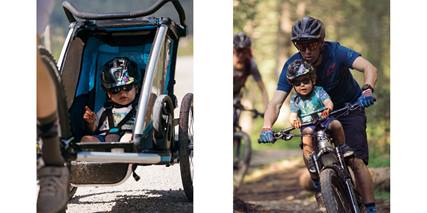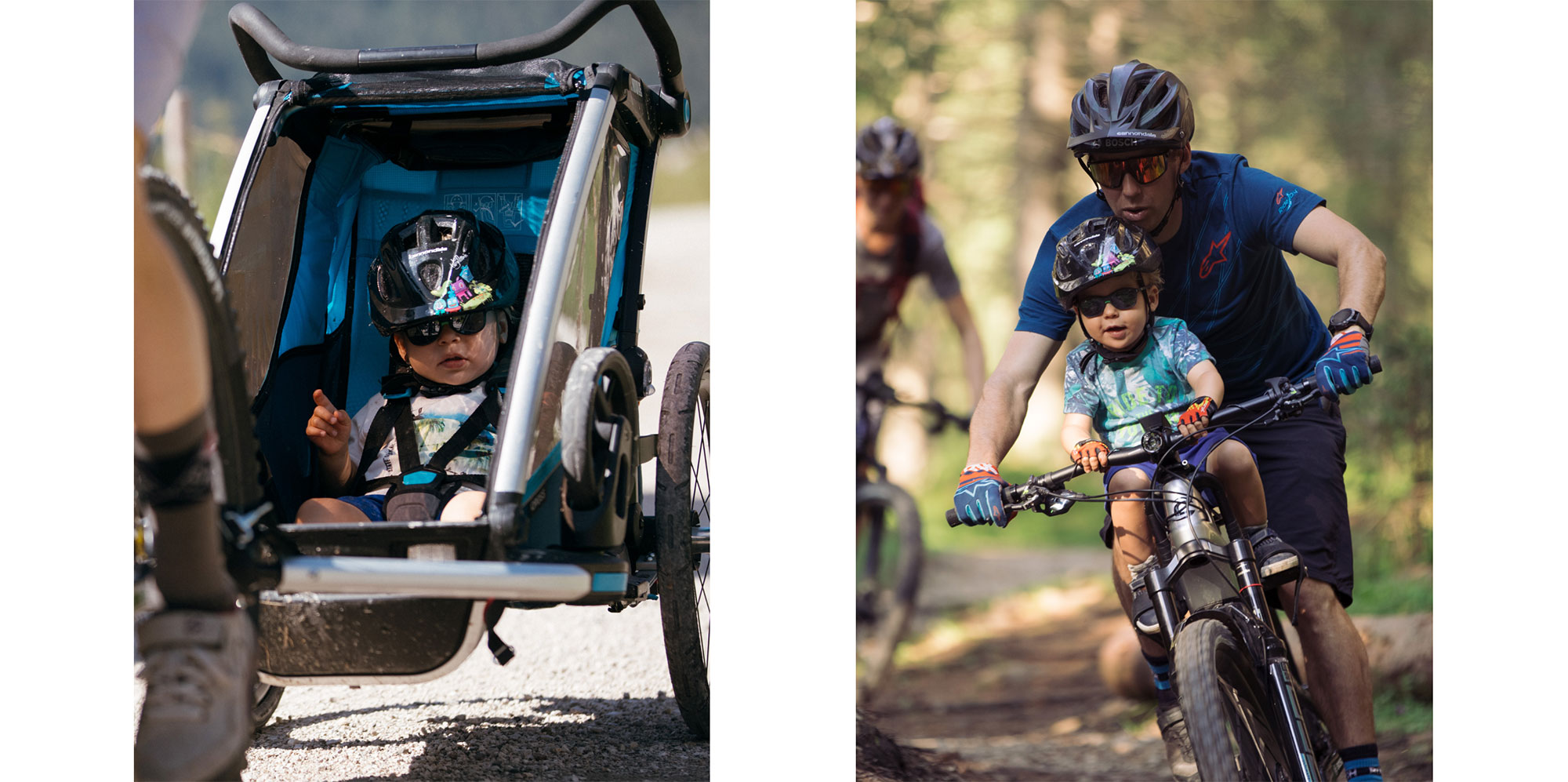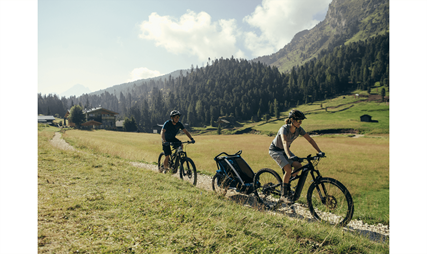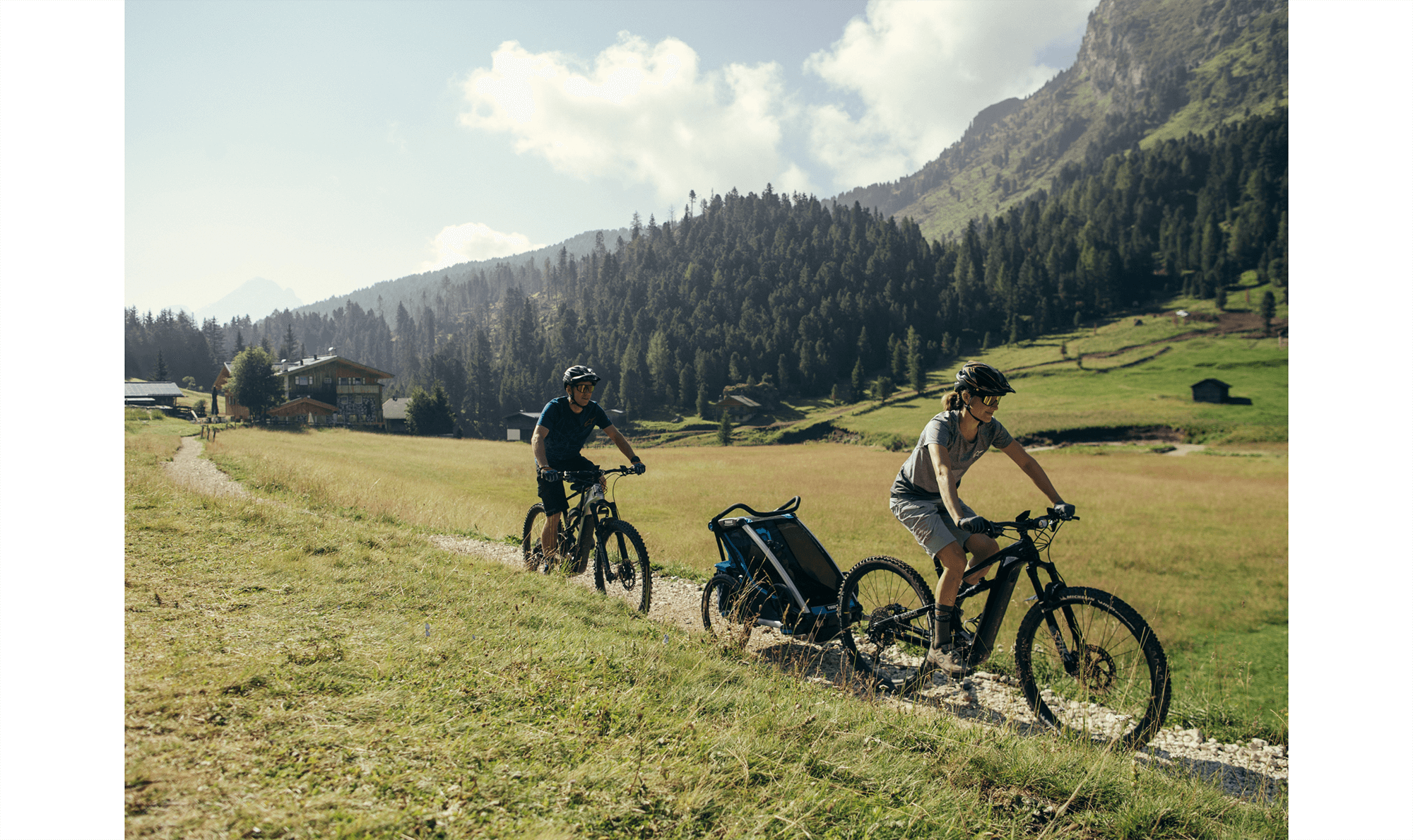 How about the range – how far can we go?
Many e-bikes have more than enough power and range in the battery to cope with any family day out, so there's no need to worry. E-bikes are more than capable of carrying you, your backpacks and additional kit, and all those extra snacks. Besides, with younger kids on the ride as well, it's probably best you don't expect to complete a marathon-length adventure before lunch – this is all about making the most of your day.
As Jerome says, "I don't recommend going on a super long ride as your kid will be tired. We mainly use the e-bike as a way to move around and to find some other fun activities to do. One of our favorite activities is riding a super flowy trail, and we try to plan a reasonable distance so we are sure we can include it." If by chance you do forget to top-up the battery and run out of juice out on the ride, you'll still be able to pedal back to home base – hopefully you'll still have some snacks left to fuel your ride.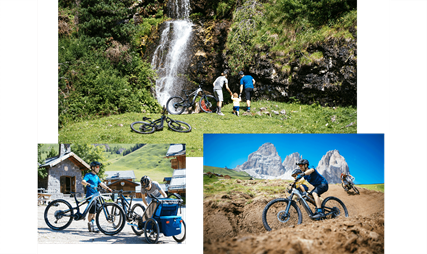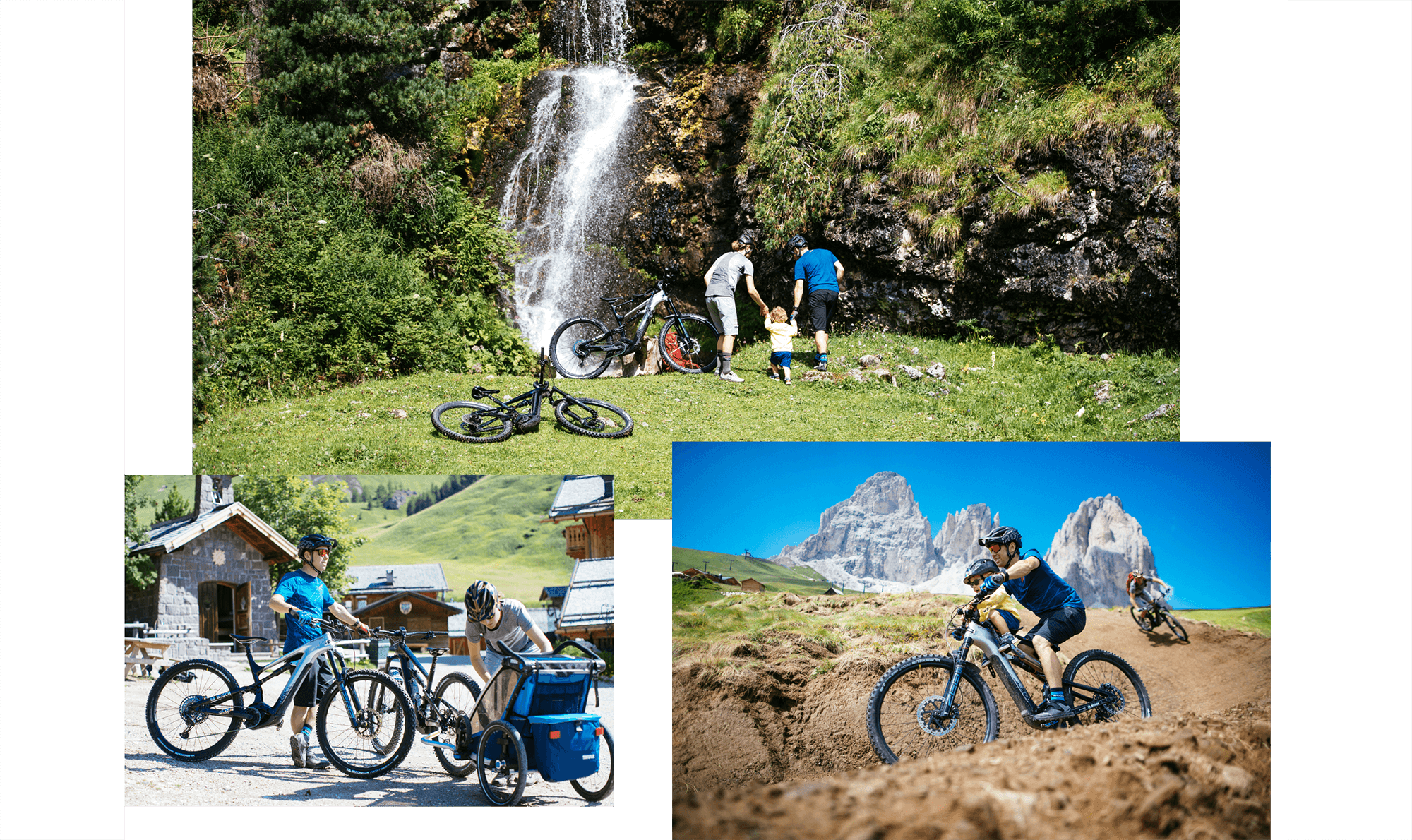 What should you pack when you take your family on an e-bike ride?
Once you have your e-bikes charged up and ready, you'll want to prepare a backpack with some ride essentials. Don't worry, even if you over pack, you'll be able to haul everything with ease on an e-bike. It's best to be prepared!
So, Jerome, the big question is, do we need to bring snacks? "Definitely some snacks, some water, and warmer clothes. If you are in the mountains, then the weather can change. Often you are pedalling and your child is sitting still facing the wind (if in a child-seat), so an extra layer is a great idea."
What's the best way to plan out the day ahead? How about maps, targets, a route?
This can be a great family activity the night before your adventure. For an old-school experience, lay out some local maps on the kitchen table and have your kids help pick out destinations and trace routes. Digital options such as Komoot and Strava are just a few of the tools available for mapping family-friendly rides as they'll show you the latest bike lanes and recreational paths.
Jerome points out, "You are here for a good time all together, so it's better to not go beyond your limits. Always try to remember that you will ride slower than if you were out riding on your own, that you may stop more often, so margin is key. If you have a plan-B ready in case of weath
er change, that could be nice too. Try to aim for a maximum of one hour of riding between stops and includes a food break, trail visit, a playground stop – just so that everybody is having a blast."
"The e-bike just makes everything more reachable and enjoyable."
What are the main reasons or advantages for using an e-bike on a family bike ride – compared to a normal bicycle?
Jerome's own experience in the mountains with his family means he knows what it's like, first-hand; "An e-bike allows you to reach some places you would hardly imagine you could reach, especially if you had to do it with 15kg (33 lbs) extra seating with an extra passenger on your bike. You can carry more stuff with you and be prepared for everything. It's also safer as you can use different power modes if you face something steeper up ahead or if you need to move on faster. The e-bike just makes everything more reachable and enjoyable. You'll quickly find that riding an e-bike makes everything so much easier, carrying essential gear, snacks and more – you'll feel like a super-parent.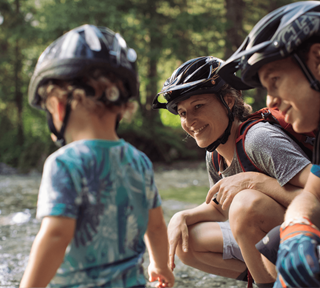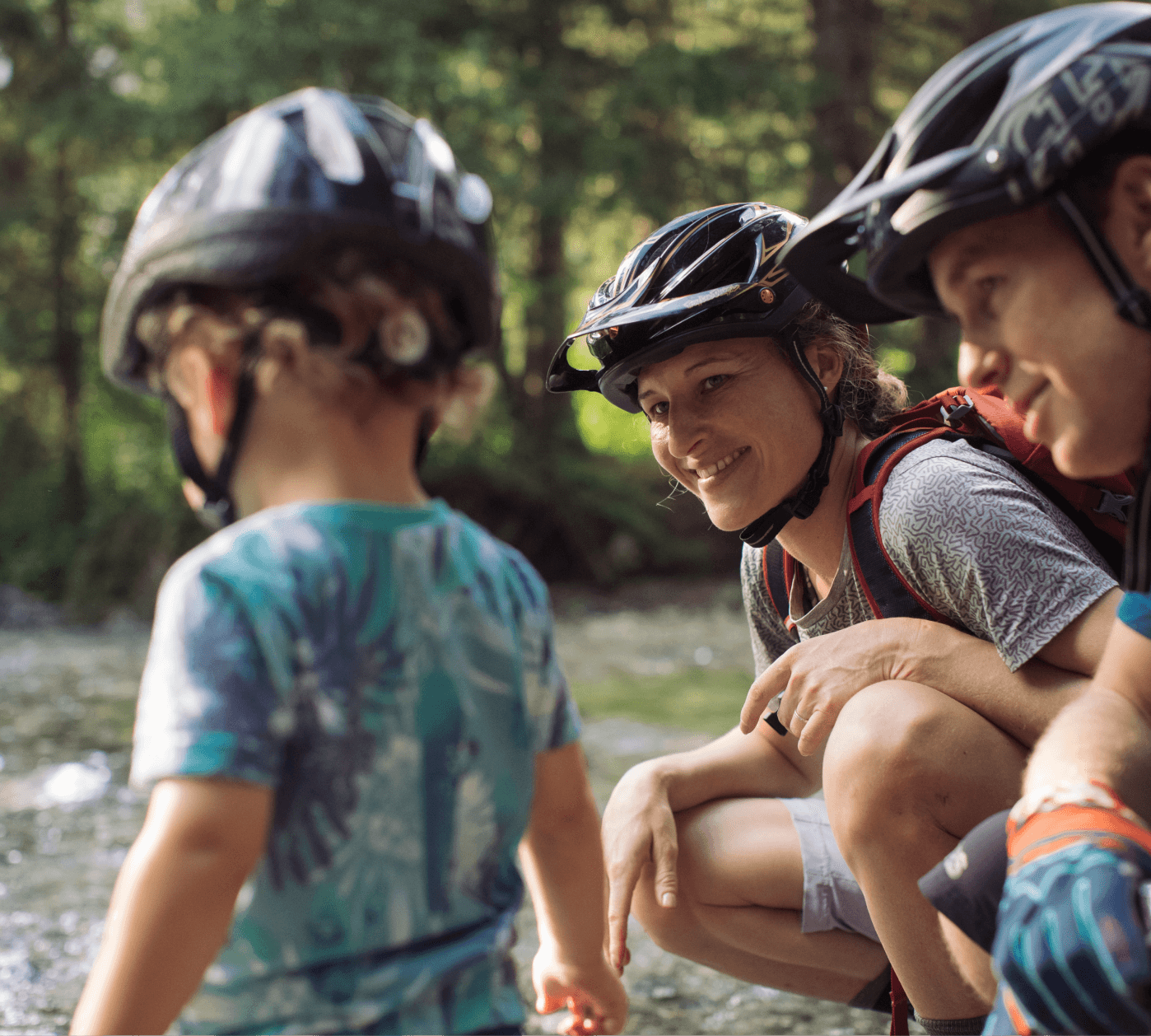 New to e-bikes? Read our Introduction to Electric-Bikes here.
LEARN MORE
Add another bike to compare
Highlights
Where It Thrives
What It's Built For
Specifications